Meet the two brothers behind this popular aquarium shop in Citrus Heights
on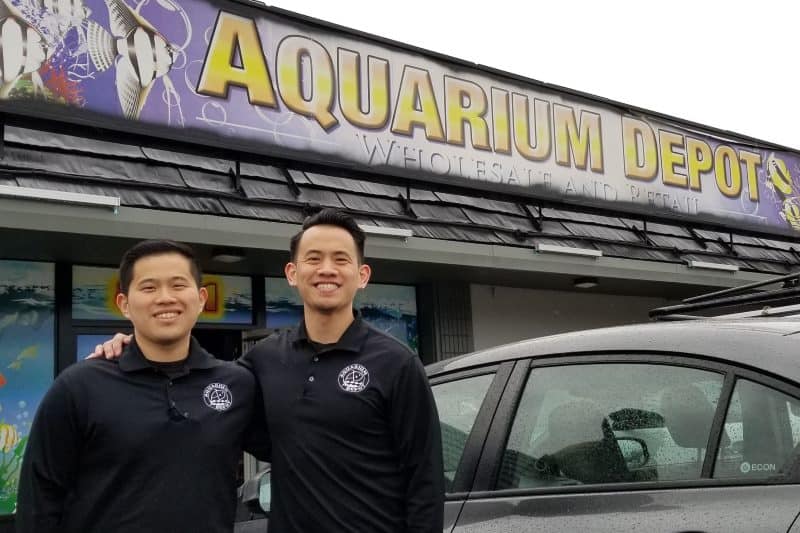 By Thomas J. Sullivan–
Jason and Jeff Liang aren't surprised when their younger customers think they will find "Nemo" or "Dory" from the popular Disney movies when they walk inside their store. Both species of fish, Dory, a regal blue Tang, and Nemo, a clownfish, are regularly in inventory.
The pair manage Aquarium Depot and Reptile Depot located in a 10,000-square-foot building at 8201 Auburn Blvd. in Citrus Heights, once the site of a Harley-Davidson motorcycle dealership. The store, which relocated to Citrus Heights from Roseville six years ago, features a colorful aquatic-themed exterior that's easily visible from the street.
Brightly lit fish tanks and supplies surround each customer as they walk in to the store. Reptile enclosures are off to the right side.
Proud dad, Jack Liang, has handed off the day-to-day business of the store to his two sons, Jason, 30, a graduate of UC Santa Cruz, and Jeff, 25, a Del Oro High School grad, whom he says have done a great job seeing the store continue to grow. Timing was right to step back, but he's always delighted to be on hand to help his regular customers.
The business started in wholesale, but has shifted to retail. About 12 to 18 shipments of new inventory are received each week.
In addition to usual customer service duties, both brothers describe an active and important role in monitoring the environmental quality and cleanliness of each of the enclosures of holding their live inventory. The pair are also aided by a staff of 10 full and part-time employees.
The Depot serves the greater-Sacramento area with what it considers to be the highest quality selection of aquatic species, reptiles, amphibians possible. "Some of our customers come from Reno, Tahoe, Sacramento and from the San Francisco Bay area just to visit our store," Jason told The Sentinel in an interview.
The two brothers say they try to promote good stewardship in a responsible way and encourage their customers to create an ideal home environment for their pets. Exotic fresh and salt water fish, sharks, stingrays, for example, are sourced from throughout the Western Pacific Ocean including the Philippines, Indonesia, Asia, and Hawaii. Retail prices have increased slightly in recent years due to rising transportation costs, he adds.
"It's still possible to create a family home aquarium with relatively low investment," Jason said, noting that the store carries over 200 different species. "The hobby tends to bring families together. Parents who may have had an aquarium in their younger years are now returning to the hobby."
"Customers have been known to walk in out of curiosity. I think we're seeing more young people get into the hobby."
There is also a wide range of reptiles in inventory, with the store boasting 50 reptile enclosures with multiple species. "We also accept surrenders and donations of reptiles from customers which are in good health," Jason said.
Sullivan, T. J. (2019, August 11) shorturl.at/tvCLT